---
Selected Editing Projects

---

BOOKS
The Writer's Path
Dominique's Fresh Flavors
School Wise Press
WEBSITES
All copy for the revamped site of Bytemobile, Inc., provider of a scalable platform for wireless IP communications.
International Olympic Committee
TECHNICAL EDITING
Lasselle-Ramsay Information Development Services

The Writer's Path:
A Guidebook for Your Creative Journey
by Todd Walton and Mindy Toomay
(Ten Speed Press)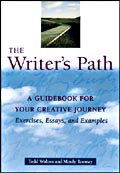 Image of The Writer's Path, copyright © 2000 by Todd Walton and Mindy Toomay, used with permission from Ten Speed Press, Berkeley, California.

This gentle, supportive guide invites the writer in all of us to come out and play. The text was a treat to edit. Typemarking for the complex design was a challenge: I devised over 40 typemarks for such elements as epigraphs, exercises, examples, notes, poems, quotes, and sidebars.

Co-author Todd Walton wrote:


"You were a great copy editor for our book. You not only caught myriad little errors and inconsistencies in the manuscript, but your insights, suggestions, and wonderful sense of continuity were all invaluable in helping us take the book to a whole new level of excellence."
Top

Dominique's Fresh Flavors:
Cooking with Latitude in New Orleans
by Dominique Macquet and John DeMers
(Ten Speed Press)

Image of Dominique's Fresh Flavors, copyright © 2000 by Dominique Macquet and John DeMers, used with permission from Ten Speed Press, Berkeley, California.

Dominique's "cooking with latititude" artfully blends favorite ingredients from his native Mauritius and other tropical ports of call with classical cuisine. These dishes, featured at his New Orleans restaurant, will impress and delight your dinner guests.

I enjoyed my role as advocate for the home cook, applying structural editing to organize and clarify the complex ingredient lists, preparation steps, and presentation touches. Someday I'm going to try my hand at "Banana Rum Fettuccine with Coconut Crème Anglaise and Shaved Chocolate Truffle" (page 162). "Looks like Fettuccine Alfredo, but -- surprise! -- it's a dessert."

Top

The original International Olympic Committee website, www.olympic.org
I provided editing for the English-language content of the International Olympic Committee (IOC) site produced by Quokka Sports from 1998 to 1999. In addition to online copyediting in HTML, I wrote help pages, headlines, and taglines, and verified links and navigation. I provided critical online editing during the IOC's investigation into the Salt Lake City bid process, and the press-conference release of its findings and decisions in Lausanne, Switzerland.

Top

Quokka Sports' websites
for the 1997-98 Whitbread Round The World Race and 1998-99 Around Alone race
Sadly, in 2001 Quokka Sports joined the ranks of dot-coms filing for bankruptcy. I worked onsite in 1998 and 1999 during Quokka's glory days.

In its first, wildly successful site, Quokka's "Total Sports Immersion" brought a once-remote sporting event to worldwide computer screens. The Web's capabilities meshed spectacularly with the Whitbread, an epic nine-month race among nine 60-foot yachts. Millions of daily visitors checked in each day to see the latest position reports, read crew email, hear their audio stories, and view their videos and still photos.

Quokka's second race site covered the Around Alone, a challenge for solo sailors that ran from September 1998 to June 1999. Again, legions of loyal fans followed the race, which drew worldwide media attention in November 1998 when sailor Viktor Yazykov performed self-surgery on an infected elbow.

For both sites, I copyedited and fact-checked breaking news stories, features, and sections such as the Virtual Race manual. Over five thousand plucky "virtual sailors" joined the Virtual Race -- from the safety of dry land.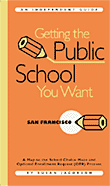 Image of Getting the Public School You Want: San Francisco, copyright © 1996 by Publishing 20/20, used with permission from School Wise Press, San Francisco, California.

I copyedited California School Rules (1998) and Getting the Public School You Want: San Francisco by Susan Jacobson (1996). I also copyedited the 1997 guidebooks to San Francisco middle schools and high schools (while authoring the elementary school guide). For the three 1996 guidebooks, I did extensive selective editing to fit text within school-profile page counts. I interviewed school staff to fill in blanks and resolve conflicting information.

Top

Lasselle-Ramsay
Information Development Services
I provided technical copyediting -- on paper and online -- for corporate clients such as Adobe, Hewlett-Packard, Hitachi, Intel, Clarity Software, LifeScan, and the Federal Emergency Management Agency (FEMA).

Lassell-Ramsay projects included these publications:



· A facilitator's guide for SAP training



· User manuals for a laptop and fax



· A white paper on managing networks and servers with Web technology



· A protocol for managing Internet ad campaigns



· Seismic rehabilitation guidelines for existing buildings (an 800-page, multivolume, multiple-author document)



· A user guide to faxing via email



· Employee recruitment materials
* * *